It depends on "WHERE" in Dorf Tirol you live...
Enjoy the breath-taking views and experience many unique, unforgettable moments. Our prime location is the greatest luxury of our house. Our Panoramahotel Am Sonnenhang ****S lies on the south-western side of Dorf Tirol/Tirolo. In other words, on the "butter side up" of Dorf Tirol: fully central and south facing. It's very quiet and incredibly sunny here... and you get this unbelievable view over Merano and the stunning mountain landscape.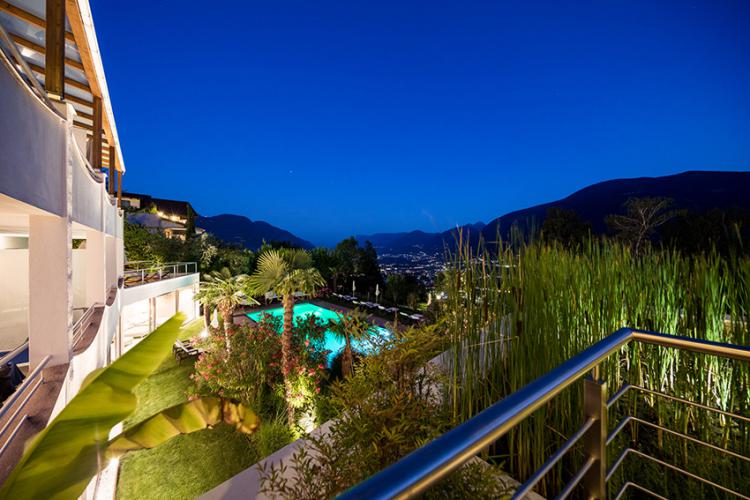 Breath-taking views over Merano and surroundings from the lily pond
[1/3]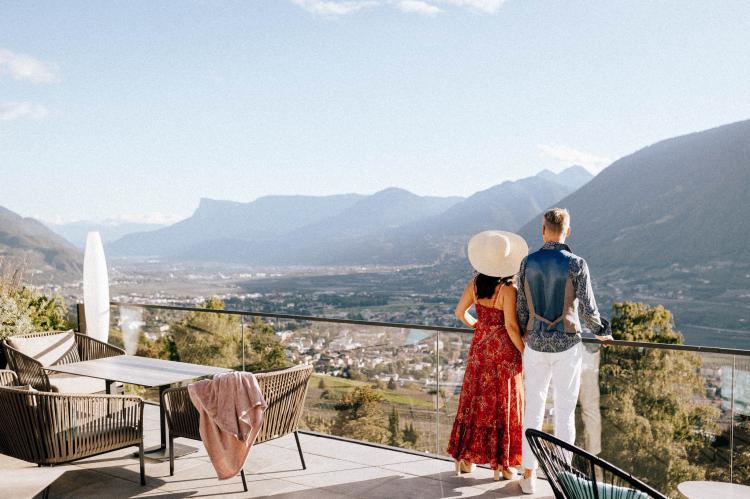 Couple vacations with panoramic views at the Hotel Am Sonnenhang
[2/3]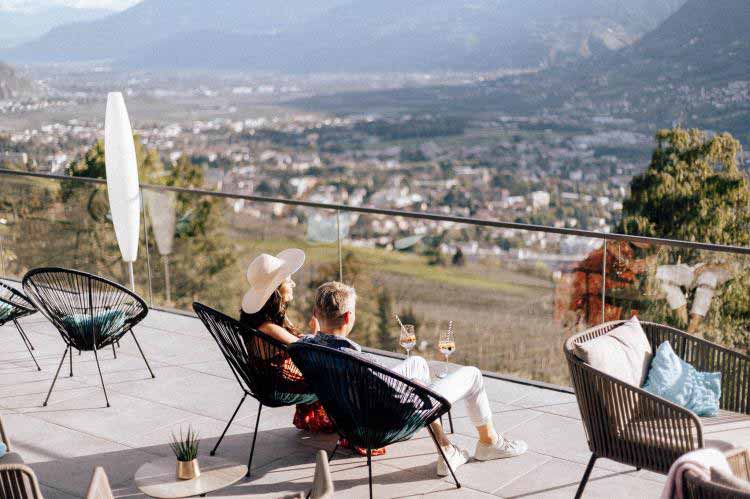 The view over Merano and surroundings
[3/3]
Perhaps the one hotel in Merano with the best panoramic views ever
Here, you're standing on the "Look how beautiful" balcony, looking over vineyards and orchards. And right behind you, the lively village centre with its bus stop, pharmacy, church and shopping streets. Enjoy the luxury of having 10 different restaurants, 3 pizzerias and a few bars within a few minutes' walk. Leave your car in our new underground parking or in the small car park and don't worry – it's in safe hands. Take a stroll through the streets of Dorf Tirol and enjoy a tasty, authentic Italian Cappuccino. Go on a shopping spree in total peace. Start your sightseeing tour directly from our house – for example, walk to Castle Tyrol and immerse yourself in the local history, take a tour through the imposing castle that gives the land its name. Just wonderful, this holiday in Tirolo!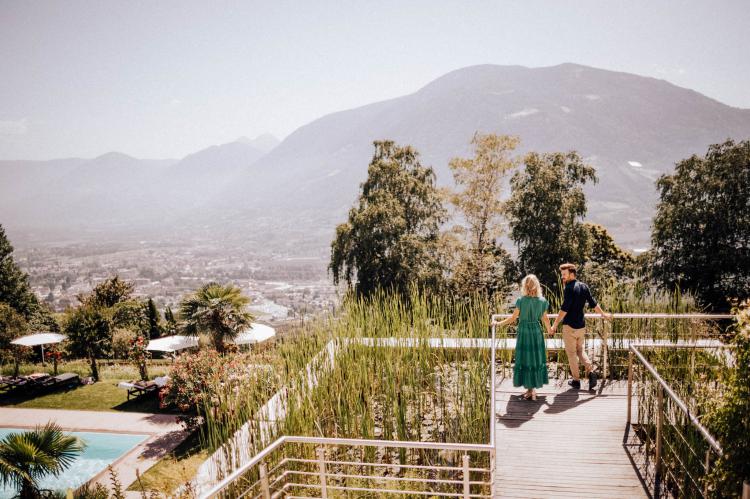 Couple vacations at the Panoramahotel Am Sonnenhang - breath-taking views
[1/4]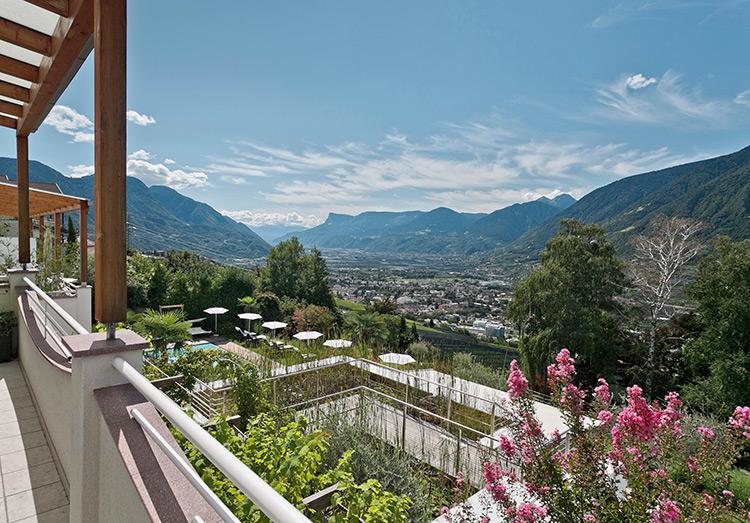 Our panoramic balconies
[2/4]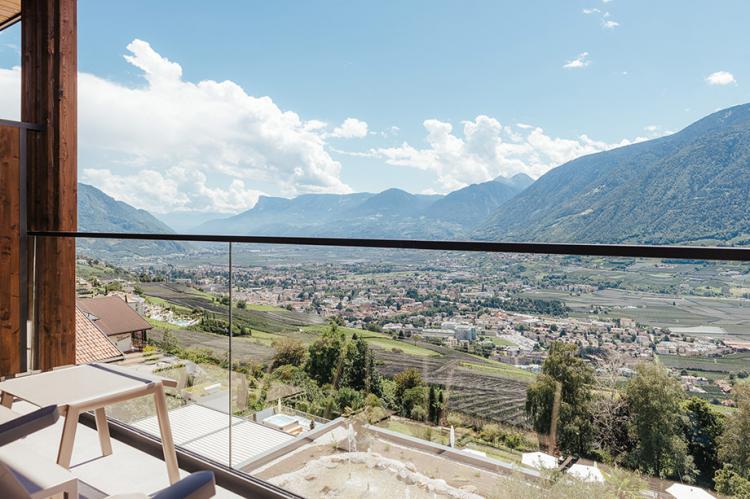 Breath-taking views
[3/4]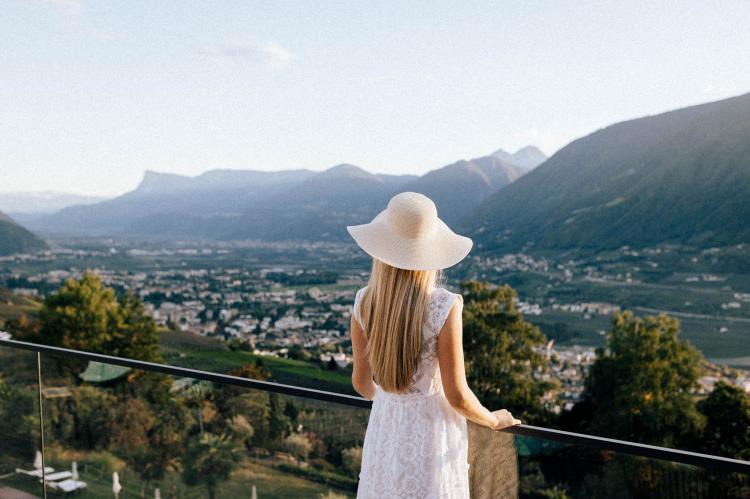 Breath-taking views over the Merano and Environs
[4/4]
Even more...
Mountains – Sun & landscapes
Feel at home in our new rooms and suites and enjoy a few wonderful days filled with HAPPINESS and BREATHTAKING VIEWS. All windows, balconies, terraces and gardens are facing southwest and thus offer an "Amazing View" of Merano and the surrounding area. Enjoy your stay in our Panorama Hotel in Dorf Tirol high above the rooftops of Merano.
Sit on the balcony, read a good book and listen to the birdsong. Soak up the sunshine on the balcony. In early summer you can hear the crickets chirping in the green meadow between our 4-Star Superior panoramic hotel in Dorf Tirol/Tirolo and the famous Falknerpromenade... And in the evening, awake your senses with a glass of wine... With the sparkling sea of lights of Merano right at your feet.